China Professional Flexible PCB/PCBA
Chat Now
Product Details
Flexible PCB / FPCB Applications
FPCBs are used widely in everyday technology and electronics in addition to high-end, complex completed components. A few of the most prominent examples of flexible circuits usage is in modern portable electronics, devices, hard disk drives and desktop printers.
Flexible circuits are also used extensively in other applications and industries including:
Communications

Consumer Electronics

Automotive

Medical

Industrial

Aerospace

Military

Transportation
In transportation they are extensively used due to their improved resistance to vibrations and movement.
Our Capabilities
We can turn your flexible PCB manufacturing order in as quick as 24 hours.


We are ready and eager to turn your concepts into reality.
| Specifications | Capabilities |
| --- | --- |
| Drill to copper – Outer layers | 8 mil |
| Drill to copper – Inner layers | 10 mil |
| Copper Thickness | 0.5 oz - 4 oz |
| Minimum Hole Size | 0.004" |
| Minimum Trace/Space | 0.003"/0.003" |
| Minimum Pitch | 0.5 mm |
| Copper to board edge | 0.007" |
| Coverlay Opening | 0.003" |
| Coverlay Web (Kapton) | 0.006" |
Heavy Copper Flex Circuit Boards
San Francisco Circuits can provide heavy copper flex circuit boards that can also be coupled with flexible thin copper layers designed to handle heavier power currents. Your heavy copper boards can be built with flex portions for lower voltage additions and applications.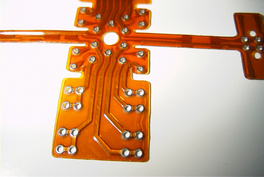 Double-Sided & Multi-Layer Flex PCBs
Whether you're looking for a double sided flex circuit or complex multi layer flexible PCBs from your flex PCB manufacturer, we can provide you with the guidance, expertise and capabilities to bring your concept to reality. Multi-layer flex boards are being used more often in electronic applications for higher speed performance but at a loss of flexibility. Single-sided or double-sided multi layer flex PCBs can be designed in unique and complex layouts, with a much greater possibility of combinations compared to FR4 board design. Just as multi-layer FR4 boards, the multi layer FPCBs can be designed using blind and buried vias as well as plated through holes (PTH).
Tel:+86-0755-29621535 Ext:817
mobile phone:+86-13420550989
Skype: live:sales5_2129
Email: sales5@xdpcba.com
Website: www.xdxpcb.com

Feedback